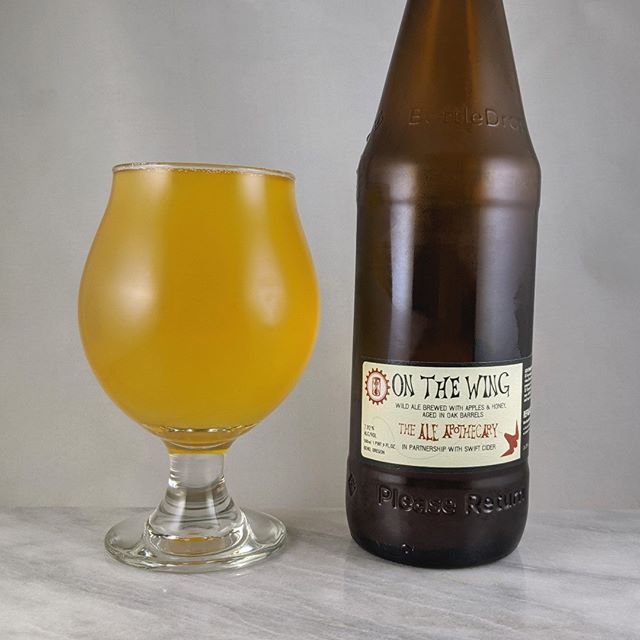 𝐁𝐞𝐞𝐫: On The Wing
𝐒𝐭𝐲𝐥𝐞: Wile Ale
𝐀𝐁𝐕: 6.8%
𝐈𝐁𝐔: –
𝐇𝐨𝐩𝐬: –
———————————–
𝐁𝐫𝐞𝐰𝐞𝐫𝐲: Ale Apothecary – Bend, OR and Swift Cider – Portland, OR
𝐁𝐫𝐞𝐰𝐞𝐫𝐲 𝐈𝐆: @thealeapothecary and @swiftcider
———————————–
𝐑𝐚𝐭𝐢𝐧𝐠: 4.25/𝟓
𝐍𝐨𝐭𝐞𝐬: Really enjoy the level of tartness and funkiness that's going on. The apple flavor is nice and sweet with the extra honey. Tasty!
𝐁𝐨𝐭𝐭𝐥𝐞 𝐀𝐫𝐭: Love that Ale Apothecary and Swift did a collab. I'm glad to be good friends with the Currie brothers. Great on Ale Apothecary for using the reuseable bottles.
𝐃𝐫𝐢𝐧𝐤𝐚𝐠𝐞: No date on bottle.